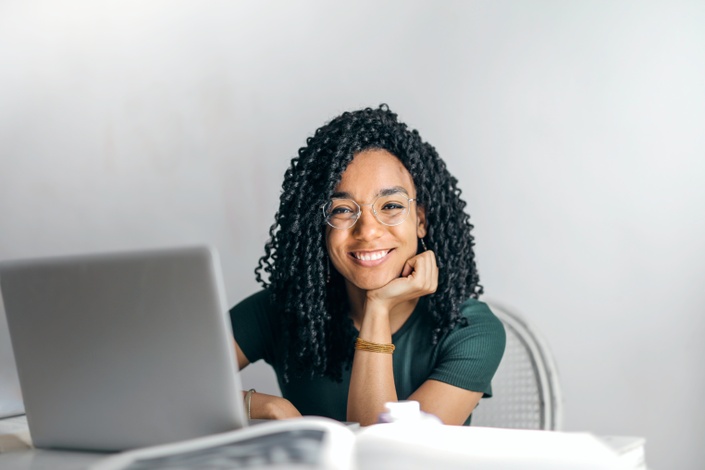 The Wealthy Woman's Blueprint
A Self-Study Course to Transform Your Finances


Does this scenario sound familiar?
Pay day comes but instead of being grateful for your income and doing a happy dance, you are stressed out and anxious... and quite frankly... a little angry.

You are in your feelings because you know that you can't touch any of that money. You can't use any of that money for the things that you want to buy or the financial future that you yearn to have.

The money is already spent before it hits your account.
On top of having to pay for rent, groceries, gas, and transportation, your check is going straight to pay down your credit card debt and your student loan payments.


Sometimes, there is more month than money and some bills cannot be paid in full.

With each check that comes, you are robbing Peter to pay Paul.

You are paying a little here and a little there but you can't seem to get back on track to building the wealth you deserve.

You feel like you are slipping further and further into debt despite getting up every morning, fighting through traffic, and working hard every day.

EVERY SINGLE DAY!

In your heart and in your spirit, you know that you are capable of wealth if you just had a way of reining in your spending, some guidance for eliminating your debt, and a support system of accountability.
You know that if you were given the tools and information to build wealth, you would take them and run with them.
But for now, instead of earmarking your income for wealth: building a plump retirement account, starting your online business, and building your 5-figure emergency fund, you spend all of your time worrying.


You are so frustrated and fearful about your finances that you find yourself unable to sleep.
You spent the time that you should be sleeping looking up at the ceiling wondering about when you will be able to make your financial reality match the vision that you have for your financial future.
In the pit of your stomach, you feel everything churning. You feel sick having to deal with all of your financial issues- how to quit living paycheck to paycheck, how to handle debt collectors, how to save when you don't think there's enough to save— alone.
And while you know that you shouldn't, you start to compare yourself to all of your friends that seem to have it all.
You end up crying yourself to sleep making you feel even more depressed and overwhelmed about your financial problems.

Now let me get a little more personal here…

These are just some of my money milestones I've been able to achieve once I started to think like a wealthy woman:
The good news is…you can do this, too!
The other good news is... you are in good hands.

Instead of waiting for SOMEDAY, you might be surprised at what's truly possible for you to do RIGHT NOW.

If it's time for you to finally start FOLLOWING THROUGH on some of your big money and abundance goals, I invite you to register for The Wealthy Woman's Blueprint.

The days of listening to your FEAR of FINANCIAL FAILURE are over.

It's time to start acting on your FAITH that everything is possible for you. The truth is, you are powerful and prosperous beyond measure.



INTRODUCING:
The Wealthy Woman's Blueprint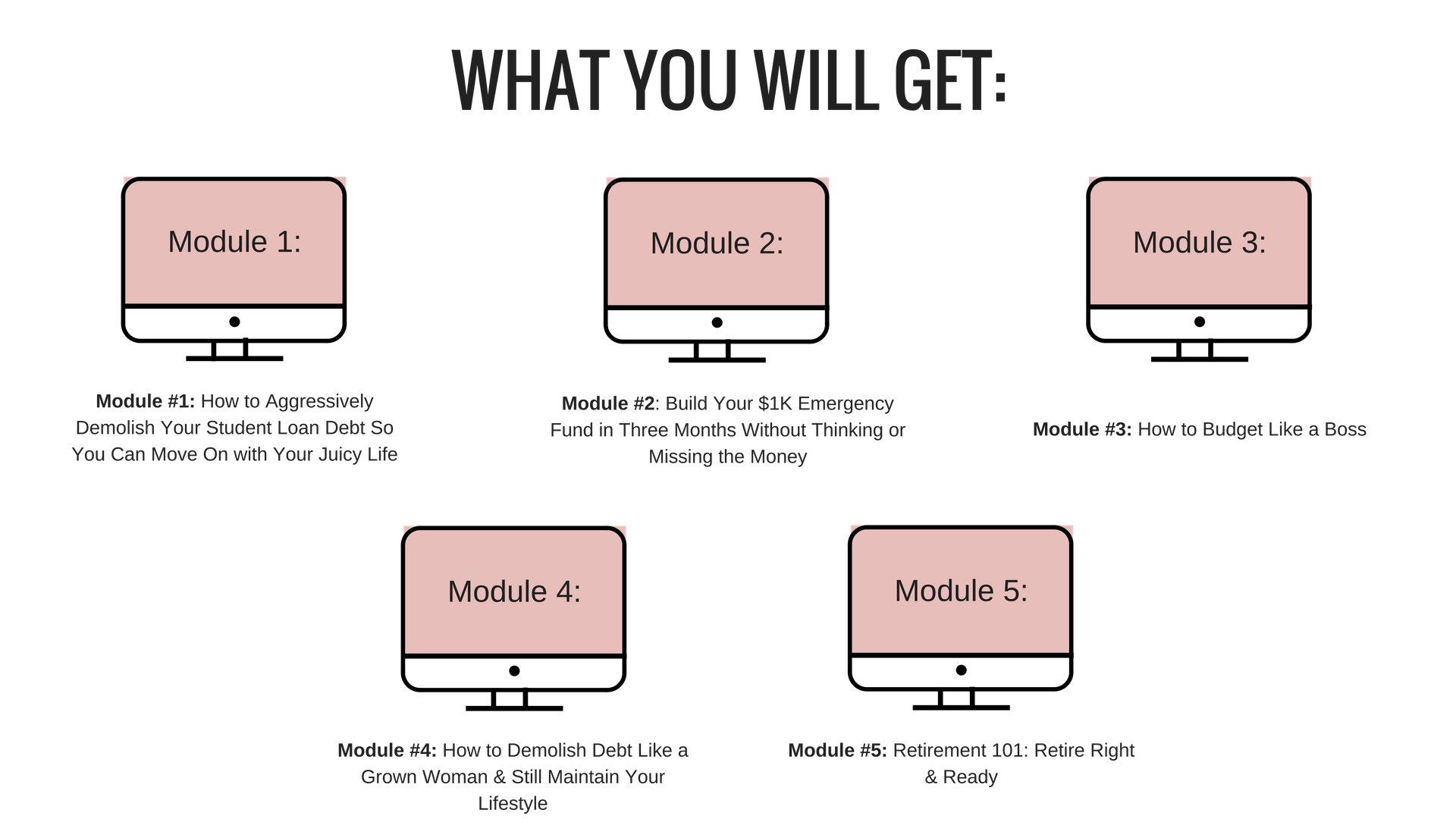 How to apply my proven GEMS System of Student Loan Repayment to aggressively pay down both your private AND federal loans.
– Why paying your student loans now is better than paying them later.
– What you need to know about the pros and cons of consolidation.
– Why refinancing may or may not be the right move for you.
– How choose the repayment option that works best for your budget.

– The money mindset that has helped me, a daughter of a single-parent immigrant, save at least 20% of her income year in and year out.
– The surprising truth about how much you need in your emergency fund to feel like a grown woman.
– 5 Reasons why it is OK and necessary to be self(ish) if you ever expect to reach your financial destiny.
– How to use the MIT approach to increase your savings
– 3 online banks that will force you to save without you feeling the pinch.

– How to build a budget makes you feel like a grown woman
-Why the numbers 50/30/20 or 70/15/15 will be your best budget friends.
– How to save without sacrificing style or your freedom.
– The money moves and the specific tools (online banks and structures) to help you overcome any initial fear of getting right with your money.

In this module, you'll master:
– My proven straightforward and on-target systems.
– How to use my proven Debt Domino Plan to eliminate your debt effectively and efficiently. – What you should say to debt collectors to make them go away.
– Why there is no such thing as good or bad debt.
– What money and emotional structures you need to conquer your credit card debt demons for good.
– The Four I's that lead us into spending temptation and how you can protect your credit and your financial future from them.

In this module, you'll get super pumped about learning:
– What your "magic number" for retirement is.
– What your options are for helping you reach the retirement finish line with ease.
– What you can do as a young professional to avoid "The Struggle" retirement.
– What you can do as a mature professional to play catch-up.
– What you should know about IRAs and retirement plans whether you work for a company or are your own boss.
Testimonials and Success Stories
---
"I've had the pleasure of not reading Kara's blogs but sitting in the audience of one of her workshops. Her simple, yet profound, message had each of us in the group really examining messages we've received about money and its influence on our behavior, in a way that popular money management gurus couldn't. Her message not only created a shift in me, as I examined faulty thinking about money and money management, but has also altered messages I give my son about money."
- Norissa Williams
---
"My session with Kara was informative. What I really liked was that she didn't offer generic advice, she asked what I wanted to do, what my goal was. I believe she got an understanding of what my vision is and directed from there. Kara listened and asked questions, and because of that I truly value the information she provides."
- Christina Lattimore
---
"Kara's work is so important for all of us. I love her website and everything she does. We NEED these conversations about prosperity and abundance."
- Abiola Abrams
---
"Kara has been a writer with the MN Business page for the past two years. Her work has proven, time and again, to be thoughtful, thought-provoking and in keeping with her desire to bring to the forefront the cultural issues that impact the personal and professional lives of Black women. I have worked with a large group of freelancers over my three years with MadameNoire. Kara stands out for taking the initiative to pitch stories consistently, file them on deadline with clean copy. She clearly enjoys what she's writing about, pushing ideas further with each pitch and digging more deeply into her topics of interest."
- Joya Garcia
---
"Greetings, Sis. It was great meeting you yesterday. You gave me so much to think about. I have signed up for the newsletter and I have downloaded my book. I also talked with my husband about some of what we discussed. That went well. I am "ready for my change," Kara! I am dedicating myself to it."
- Etare
---
"The Frugal Feminista offers insightful articles on the intersection of life and finances. There are few other places on the web where you can find the kind of down-to-earth advice that TFF provides on love, work, friendship and money."
- Danielle Douglas
Your Instructor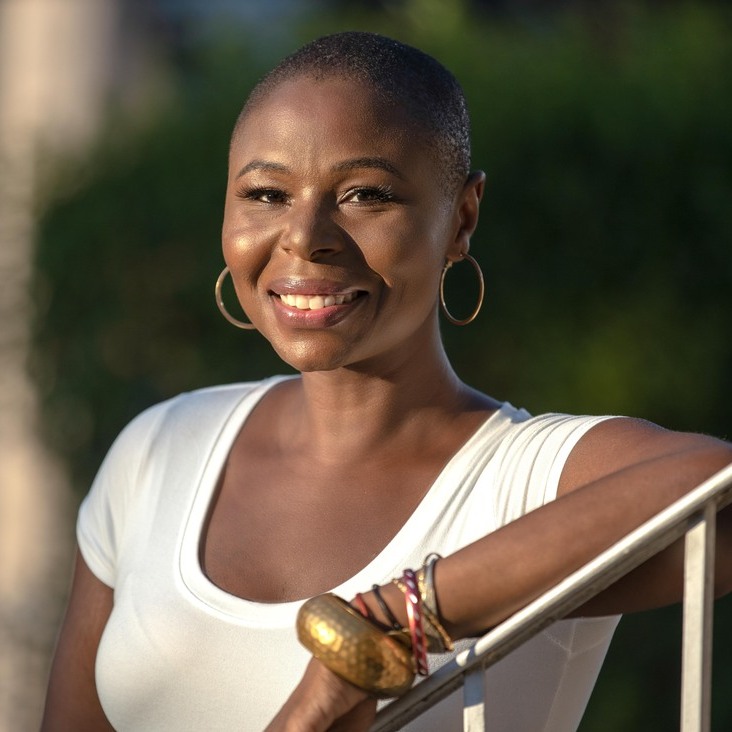 Kara Stevens is the founder of The Frugal Feminista, a personal finance and lifestyle blog and committed to empowering women to use money as a tool to fund their "juiciest" lives.
After climbing her way out of $65K worth of student loan and credit card debt, building up her financial reserves, and aggressively investing in equities, Kara soon saw the link between personal liberation, power, and financial freedom and wanted to inspire and educate other women around the increasing their financial acumen and financial self-confidence.
A teacher, historian, connector, and activist at heart, Kara wants to lead a "frugal feminista" revolution– to change the conversation between girlfriends, between husbands and wives, and between mothers and daughters.
Ms. Stevens is a native New Yorker and first-generation American via the beautiful island of Antigua. She possesses a BA in Political Science from Oberlin College, a MSEd in Bilingual Education from CUNY's Hunter College and an EdM in Organizational Leadership from Columbia University's Teachers College.

Frequently Asked Questions
How does the Wealthy Woman's Blueprint program work?
This is a self-paced online course, held VIRTUALLY. All you need is an internet connection to access the training modules and download the course materials! As soon as you complete your registration, you will receive a welcome email with a link to get immediate access to your courses.
I've never invested in myself like this before. Is the program really worth it?
Well, what I can share with you is that in my life and business, I judge any potential investment by the goals that I'll be able to accomplish because of it. What would it be worth to you to finally start making progress on the big dreams you have for your life? For me, that's priceless! When you do the math to add up all the value you will receive from participating in this program (including all of the bonuses and support) you end up with an experience that's worth well over $1,800. But because I want to make the training accessible for as many women as possible, this online program is an unbelievably affordable investment with all of the extra modules, the coaching calls, and the one-on-one coaching. Of course, I can't tell you how to decide, but what I will tell you is that when I began to invest in myself at a high level, my life changed forever as a result. There's something incredibly powerful that happens when you pay money for something – it pushes you to actually do the work 🙂 I've made it so incredibly easy for you to join this course because I KNOW how powerful it will be for you to participate fully and with an open heart.
What is your refund policy?
This is a non-refundable investment because it's an electronic course. We know that if you do the work, you'll see the transformation you're looking for.
Legal Notice and Disclaimer:
This course is intended for the personal use of the individual who purchased it. You are not allowed to give or sell this course to anyone else.
Please note that this course is based on personal experience and anecdotal evidence. Although the authors and publisher have made every reasonable attempt to achieve complete accuracy of the content in this course, they assume no responsibility for errors or omissions. Also, you should use this information as you see fit, and at your own risk. Your particular situation may not be exactly suited to the examples illustrated here; in fact, it's likely that they won't be the same, and you should adjust your use of the information and recommendations accordingly.
Any trademarks, service marks, product names or named features are assumed to be the property of their respective owners, and are used only for reference. There is no implied endorsement if we use one of these terms.